CLINICAL SERVICES
Custom Orthotic Design Group Ltd. has been established in Mississauga since 1996 bringing over sixty years of experience in patient care, assessing for, designing, manufacturing, fitting and repairing custom made orthoses, orthopaedic appliances and durable medical goods. Our Certified Orthotists are specialists in the design, fabrication and fitting of orthoses (braces or splints) intended to prevent or correct deformities, protect a painful part of the body, redistribute forces evenly over a body part or to improve the function of a weakened extremity.
Patients are referred to Custom Orthotic Design Group Ltd. by their physicians, physiotherapists, nurses and other health care professionals for assessments for treatment using orthoses (braces or splints). Each person is assessed and the most appropriate treatment plan is determined based on the unique needs of each individuals' health, biomechanical, mobility and social needs. People who have complications from diabetes, stroke, multiple sclerosis, trauma, head injury, overuse and many other issues may benefit from an orthosis.
THE PROCESS
1. The patient is assessed to determine efficacy of device, device prescription and use of device(s).
2. If orthotic intervention is warranted and the patient chooses to proceed, the limb is measured and casted.
3. The device is fabricated in our Mississauga office.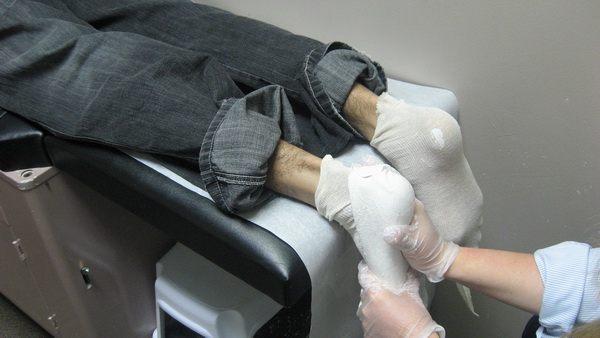 4. The device is fit approx. one week after initial cast.
5. The patient is educated regarding use and function of the device.
6. The patient is reassessed to assure that there is a positive outcome. Are we doing what we need and want to do? Does the orthosis work?
7. For lower extremity devices, footwear is outlined and recommendations may be made or appropriate shoes are fit.
8. Follow-up appointments are arranged according to patient need.
9. Further involvement with P.T., O.T., or M.D. may be required.
For more information about Certified Orthotists, please check the Orthotics Prosthetics Canada (OPC) website.